The Quarryman's Bride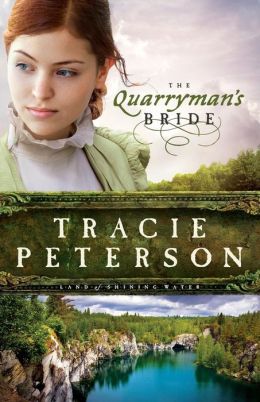 The Quarryman's Bride
Emmalyne Knox has always loved Tavin MacLachlan. But when tragedy strikes her family, Emmalyne's father declares she can no longer marry. Despite Tavin's pleas to defy the decision, Emmalyne refuses. In her act of obedience, she gives up the future she'd always dreamed of.
When Emmalyne's father returns to the quarry business years later, Tavin and Emmalyne meet again. And though circumstances have changed in both of their lives, they cannot deny the feelings that still exist. Can Emmalyne find a way to heal the decade-long wound that has fractured the two families...and change the hearts of those who stand in the way of true love?
As I read the first book in this series a few months ago, when I saw this novel available at the library, I decided to try it, although the book description didn't sound really very interesting to me. However, I was pleasantly surprised. Though I admit that it did drag quite a bit in some parts, and Emmalyne's dad completely annoyed me at first, and then, when it introduced a second love interest I all but screamed, "not another love triangle book!" it ultimately won me over. The romance was rather "eh"- I didn't care for the hero overmuch- but it was better than the last several books by this author that I (attempted) to read.
One thing I really liked was how Emmalyne truly honored her father, even when he was unreasonable. Though many would criticize her for being too "perfect" she did the right thing, even when many people –even Christians- would have said that it would have been okay to disobey. That's not something you find a lot, even in Christian fiction, so I was happy about that.
Again, though this wasn't my favorite book, I enjoyed it much more than I was expecting to, and when our library gets the last book in this series this fall, I'm sure I'll pick it up.
Objectionable content: aside from a few kisses at the end, not much.