Cover Envy
This post was inspired by Rissi's cover candy
posts
...and the covers of a a few great-looking books I stumbled upon by accident. What do you think of these new/upcoming titles? (Note: I don't necessarily recommend -or plan on reading- all of these books. I'm just focusing on the covers...for the most part)
Love Comes Calling by Siri Mitchell.
A new Siri Mitchell book! Yay! Though her last novel didn't live up to my expectations, I'm looking forward to this one. I don't like the cover of this one much as Unrivaled, but I like the Art Deco feel. I have a feeling this one's going to end up on my bookshelf :)
ShadowHeart by Anne Elisabeth Stengl
I still haven't gotten through all the books in this series, I really am looking forward to this book. It's defnitely my favorite cover of the Tales of Goldstone Wood series.
The Captive Maiden
by Melanie Dickerson
I was SO happy when I saw this cover! It's beautiful and matches Melanie Dickerson's other books perfectly. I can NOT wait for this one!
Dangerous
by Shannon Hale
So this one is not one I'd normally post! It's not "pretty", but rather...futuristic, maybe? There's not a whole lot of description for this book yet, but it's by Shannon Hale, so I know I'll be checking it out!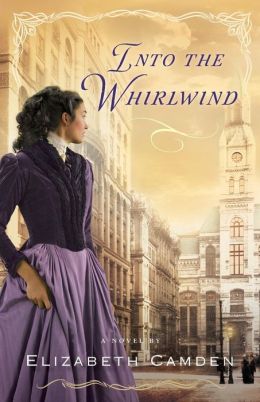 Into the Whirlwind
by Elizabeth Camden
Again, looking forward to this book. I like the colors, but something about the composition feels a little "off" to me. But it does have some nice elements.
The Living Room
by Robert Whitlow
I'm not sure what I think of this one. Do I like it, or do I not? What do you think about it?
Tattler's Branch
by Jan Watson
The hair is pretty awesome (especially that silver streak!)
All For A Story
by Allison Pittman
Well, that gal looks sassy! But something about the cover bothers me...I don't really like the way all the elements mesh together, and I think the character on the front looks a little stiff.
Elusive Hope
by MaryLu Tyndall
Can't wait for this release! I'm not
quite
sure what I think of the cover, though. It looks a little mysterious, and I like the misty look.
Blackmoore
by Julianne Donaldson
Definitely a close-up here, although we can't see the subject's face. I like the pearls, and the manor in the background.