Murder Comes By Mail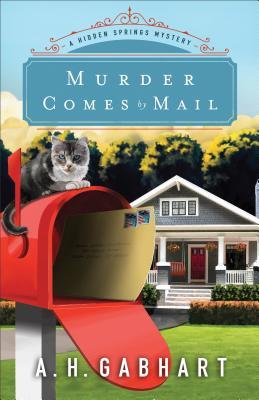 Murder Comes by Mail
A.H. Gabhart
Revell
A Cozy Mystery Complete with a Small Town Full of Charming, Quirky Characters
Deputy Sheriff Michael Keane doesn't particularly enjoy being touted as the hero of Hidden Springs after pulling a suicidal man back from the edge of the Eagle River bridge in front of dozens of witnesses--a few of whom caught the breathtaking moments with their cameras. But the media hype doesn't last long as a new story pushes its way into the public consciousness of Hidden Springs' concerned citizens.
Photos of a dead girl arrive in the mail, and Michael becomes convinced she was murdered by the man he saved. With a killer one step ahead, things in Hidden Springs begin to unravel. Now Michael must protect the people he loves--because the killer could be targeting one of them next.
Readers will love racing along with Deputy Sheriff Keane as the clock ticks in this page-turning mystery.
This book did not get off to a great start with me, I'm afraid. I got this one because I was in the mood for a small-town mystery, but I sadly didn't connect with most of the characters, and I found some of the content, mostly in the beginning, vaguely problematic. (That is, as a Christian reading a piece of Christian fiction, I didn't care for certain behaviors/ideas of the Christian characters).
I eventually set this one aside to focus on other things because I just couldn't get into it. I did get back to it eventually, and I found that it did pick up once the murders commenced. The mystery plot itself was interesting (although I did solve the mystery by the middle of the book) and was what kept me reading, although I wasn't entirely satisfied with its conclusion. However, this novel wasn't really to my taste. It felt a little bit like one of those Hallmark channel made-for-TV mystery flicks.
Rating: 5
I received this book for free from the publisher in exchange for my honest review.