The Bachelor Girl's Guide to Murder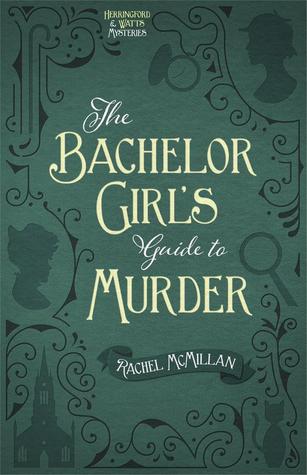 The Bachelor Girl's Guide to Murder
Rachel McMillan
Harvest House
In 1910 Toronto, while other bachelor girls perfect their domestic skills and find husbands, two friends perfect their sleuthing skills and find a murderer.
Inspired by their fascination with all things Sherlock Holmes, best friends and flatmates Merinda and Jem launch a consulting detective business. The deaths of young Irish women lead Merinda and Jem deeper into the mire of the city's underbelly, where the high hopes of those dreaming to make a new life in Canada are met with prejudice and squalor.
While searching for answers, donning disguises, and sneaking around where no proper ladies would ever go, they pair with Jasper Forth, a police constable, and Ray DeLuca, a reporter in whom Jem takes a more than professional interest. Merinda could well be Toronto's premiere consulting detective, and Jem may just find a way to put her bachelor girlhood behind her forever--if they can stay alive long enough to do so.
This was a book I've had my eye on from the first moment it appeared on Goodreads-- two lady detectives? In Edwardian times? Inspired by Sherlock Holmes? Obviously, I'm in. While at times bending history to suit its needs,
The Bachelor Girl's Guide to Murder
was a fun, quirky romp through 1900s Toronto.
And the footnotes.
I loved the footnotes. Easily one of my favorite aspects of the book.
I do have a few issues from a theological perspective, as there are a few times that I felt there was too much emphasis on "doing what's right for you" and flouting societal conventions, since honestly I don't think that's the best way for Christians to act in certain circumstances.It actually wasn't in some ways as feministic as I feared (being an ardent non-feminist, I do admit to having very immovable ideas on women's roles) although there were definitely several times the book veered into territory I didn't agree with.
That being said,
The Bachelor Girl's Guide to Murder
is a madcap adventure that includes quite a lot of laughs. Its strength isn't so much in its mystery (which wasn't terribly unpredictable) but in the charming writing style, the characters, and the promise that we'll be getting the chance to see these ladies again soon.
Also, the phrase "cracker jacks!" has permanently entered my vocabulary.
Rating: 8
I received this book for free from netgalley.com in exchange for my honest review.