Dressed For Death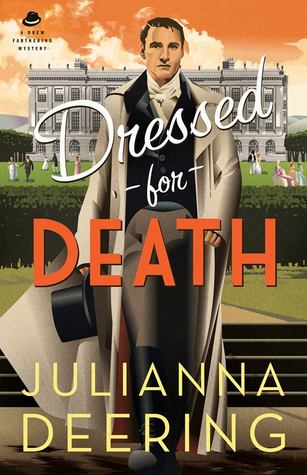 This Traditional British Cozy Mystery
Gets a Regency Twist
Drew and Madeline Farthering celebrate their six-month anniversary by attending a fancy Regency era costume party. Drew is glad to see Talbot Cummins, an Oxford classmate, and his fiancée, Alice Henley, though many present seem worried about the couple. Everyone's concerns are realized when, at the concluding grand ball, Alice dies of an overdose of cocaine. Tal refuses to believe she took the stuff intentionally, and Drew is determined to find out if her death was an accident or murder.
Drew is shocked and disillusioned when the police arrest Tal's father and reveal that the man has been smuggling drugs into the country for the past twenty years. Reeling from the death of his fiancée and the revelation about his father, Tal begs Drew to find out what's going on. Drew, now questioning his own ability to see people as they really are, does so reluctantly, not ready for the secrets he's about to uncover--or the danger he'll bring down on everyone he holds dear.

Having enjoyed the previous Drew Farthering mysteries, I was pleasantly surprised when I saw that a fourth book would be coming in this series.
The classic mystery setting of the 1930s English Countryside is always fun to return to, and the Regency twist, although only prominent in the beginning, was an interesting addition (although I admit some disbelief at the way the men [and even women] were able to quote so much Jane Austen...something tells me that might be a little unrealistic ;)
However, I did feel that this mystery wasn't as strong as the others--I guessed the culprit almost immediately (actually, I had a "hunch" about who the murderer was going to be even before the murder happened...). That being said, there were plenty of times that I felt doubt about my choice and thought I might be wrong. I did find this mystery surprisingly disturbing (I say "surprisingly" because I do read a lot of mysteries, so I'm not exactly a stranger to murder in that context.) Perhaps this was because *SPOILER*one of the victims was a young teenage boy my brother's age. Yet I've read other books where teenage boys have died, so I really don't know what it was about this instance, but it just threw me off. *END OF SPOILER*
Anyway, while it did take me about half the book to really "get into" it, by the last few chapters I was twisted in knots wondering if I had guessed right or not. I do warn the reader that I found Dressed For Death more depressing than its preceding books, but for anyone who wants to spend more time with Drew and Madeline Farthering, it's one to add to the to-read list.
Rating: 7
I received this book for free from netgalley in exchange for my honest review.