The Secret of Pembrooke Park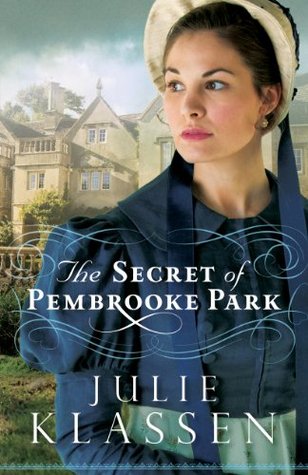 The Secret of Pembrooke Park
Julie Klassen
Bethany House
Abigail Foster fears she will end up a spinster, especially as she has little dowry to improve her charms and the one man she thought might marry her--a longtime friend--has fallen for her younger, prettier sister.
When financial problems force her family to sell their London home, a strange solicitor arrives with an astounding offer: the use of a distant manor house abandoned for eighteen years. The Fosters journey to imposing Pembrooke Park and are startled to find it entombed as it was abruptly left: tea cups encrusted with dry tea, moth-eaten clothes in wardrobes, a doll's house left mid-play . . .
The handsome local curate welcomes them, but though he and his family seem to know something about the manor's past, the only information they offer Abigail is a warning: Beware trespassers who may be drawn by rumors that Pembrooke contains a secret room filled with treasure.
Hoping to improve her family's financial situation, Abigail surreptitiously searches for the hidden room, but the arrival of anonymous letters addressed to her, with clues about the room and the past, bring discoveries even more startling. As secrets come to light, will Abigail find the treasure and love she seeks...or very real danger?
Out of all of Julie Klassen's books, I think that
The Secret of Pembrooke Park
possibly has the most interesting premise. A mysterious house? Check. Likable heroine? Also check. Secrets and mysteries galore? Yes, this one has got those, too. So what's not to love?
This book started off really, really well. I was pulled into Abigail's world and the eerie but fascinating descriptions of Pembrooke Park. However, this book lost a lot of traction as it went on. The last third of the book, especially, just went by way too quickly- suddenly everything was in a rush to resolve itself. This is especially odd considering that this is Julie Klassen's longest book to date. It flowed so well for the first half, but then started to get a little rushed in the second, and then finally everything was slammed together there at the end.
Another thing that bothered me was that there were so many moments between the hero and heroine that would have been considered scandalous back in the Regency period. Aside from one shirtless hero scene (did we really need that???) it wasn't anything strictly
immoral
; it was just that they were alone in not-so-open places in a way that really would have been a breach of propriety back then and in ways that even today I would consider highly unwise. If it had happened only once or twice it wouldn't have bothered me quite so much, but there were several times throughout the book I shook my head thinking,
I just really don't think that two people of good standing would do that back then.
It was especially annoying because aside from this, the characters were likable...but it got to the point that I was having a hard time truly respecting William and Abigail because of it.
For a mystery, I guessed nearly every plot point pretty early on; still, there were a few surprises, and even the aspects I guessed correctly at weren't so obvious that you were slamming your head because the characters couldn't figure it out by themselves.
I know it seems like I've been really hard on this book, but it's just because I expect so much when it comes to Mrs. Klassen. This book had the potential to be amazing, but it fell short. I still enjoyed it; in fact, I couldn't put it down and read the entire thing in one day. But that doesn't change the fact that this book had many detractors that affected my overall pleasure in reading it. Definitely still recommended for historical romance lovers (and still much better written & more enjoyable than a lot of Christian Romance) but not up to the level that I was hoping for.
Rating: 8 1/2
I received this book for free from the publisher in exchange for my honest review.