Price of Privilege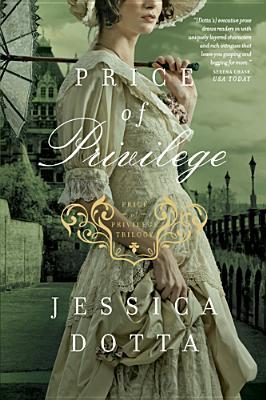 Price of Privilege
Jessica Dotta
Tyndale
Having finally discovered the truth of her birthright, Julia Elliston is determined to outwit Chance Macy at his own game. Holding a secret he'd kill to keep, however, is proving more difficult than she imagined.Just when Julia thinks she's managed to untangle herself from Macy's clutches, he changes tactics with a risky ploy. As the scandal of the century breaks loose, drawing rooms all over London whisper what so far newspapers have not dared to print: Macy's lost bride is none other than Lord Pierson's daughter--and one of the most controversial cases of marital law ever seen comes before Victorian courts.Though Julia knows Macy's version of events is another masterful manipulation, public opinion is swaying in his favor. Caught in a web of deceit and lies, armed only with a fledgling faith, Julia must face her fiercest trial yet.
This book was really hard for me to read- it was one of those stories when you know tons of terrible things are going to happen and any time something nice
does
occur, you're just waiting for the other shoe to drop.
That being said, this might be my favorite of the series (even if it started out slowly for me) because I finally got to see how everything wrapped up. While overall I definitely find this a more "mature" series due to some of the topics, I was pleased that this book brought in much more a faith message than the other two books.
While there were moments of enjoyment (I'm in love with Jameson! He was the best) it was still a book that made me mad- from the way women were treated in that time period to the way Macy twisted everything to suit his purposes in court, I was having a hard time keeping my temper with these fictional characters!
While this series wasn't my favorite simply because of the Gothic genre, I think this is an author to watch, and I'll be on the lookout for future books by Jessica Dotta.
Rating: 7 1/2
I received this book for free from the publisher in exchange for my honest review.