The Cactus Creek Challenge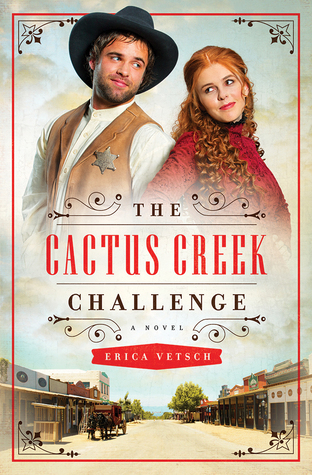 The Cactus Creek Challenge
Erica Vetsch
Shiloh Run
Anything he can do, I can do better.
At least that was what Cassie Bucknell thought before she pinned on Ben Wilder's badge and took to patrolling the streets of Cactus Creek, Texas. Cassie has been in love with Ben since primer school, but Ben treats her like a little sister. When they are picked to swap jobs for a month as part of the annual Cactus Creek Challenge in their Texas hometown, the schoolhouse is thrown into an uproar, the jail becomes a temporary bank vault, and Cassie and Ben square off in a battle of wills that becomes a battle for their hearts.
This novel is set in a Texas town in the late 1800s where the annual "Cactus Creek Challenge" takes place- when four people switch jobs for a month to raise money for various causes around the town. This year is a little different, though- the council has decided to allow the women to participate, which means that schoolteacher Cassie Bucknell is required to switch jobs with Sheriff Ben Wilder, and stable owner Carl Gustafson has to switch with baker Jenny Hart.
This book was really cute! The plot idea was perhaps a little unlikely, but interesting and unusual enough so that I knew I wanted to read it :) One thing I really liked was that it wasn't just Cassie and Ben's story; it was also about the other couple doing the challenge, too. There were several times this story had me smiling or even giggling to myself as they all made complete messes of each others' jobs.
The characters could be pretty stubborn, though...sometimes I felt like they were getting upset over nothing and making bigger deals than were needed. Still, I did enjoy this one.
Rating: 8
I received this book for free from netgalley.com in exchange for my honest review.