Beyond All Dreams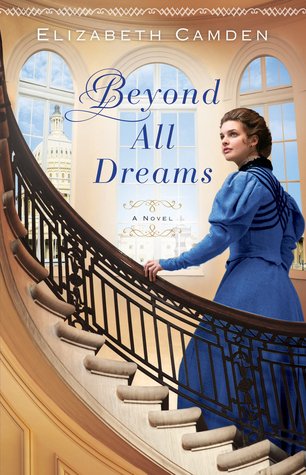 Beyond All Dreams
Elizabeth Camden
Bethany House
Anna O'Brien leads a predictable and quiet life as a map librarian at the illustrious Library of Congress until she stumbles across a baffling mystery of a ship disappeared at sea. She is thwarted in her attempts to uncover information, but her determination outweighs her shyness and she turns to a dashing congressman for help.
Luke Callahan was one of the nation's most powerful congressmen until his promising career became shadowed in scandal. Eager to share in a new cause and intrigued by the winsome librarian, he joins forces with Anna to solve the mystery of the lost ship.
Opposites in every way, Anna and Luke are unexpectedly drawn to each other despite the strict rules forbidding Anna from any romantic entanglement with a member of Congress.
From the gilded halls of the Capitol, where powerful men shape the future of the nation, to the scholarly archives of the nation's finest library, Anna and Luke are soon embroiled in secrets much bigger and more perilous than they ever imagined. Is bringing the truth to light worth risking all they've ever dreamed for themselves?
Ah, I do like Elizabeth Camden's books and this one was no exception. While
Beyond All Dreams
isn't my favorite book by Elizabeth Camden, that doesn't mean I didn't love it.
Of course, having the heroine be a librarian was bound to interest me, and I could see the research the author went to in the setting and plot of the story. Speaking of plot, this one had a variety of twists and turns (including one I didn't expect at all!) that made it interesting. I also enjoyed the relationship between Anna and Luke;
Beyond All Dreams
had some great dialogue and the conversations between the two of them were a highlight. Anna and Luke were both likable and personable (and I loved how he called her by her last name...I don't know why. Maybe because romances always jump to first names, even when historically speaking it wouldn't be appropriate, so it was a nice change here)
Overall, this is another solid novel from one an author who has quickly become one of my favorites.
Objectionable content: a couple kisses. There was nothing really explicit or "bad" in this book; it just had a more "mature" feel to it.
Rating: 9