With Every Breath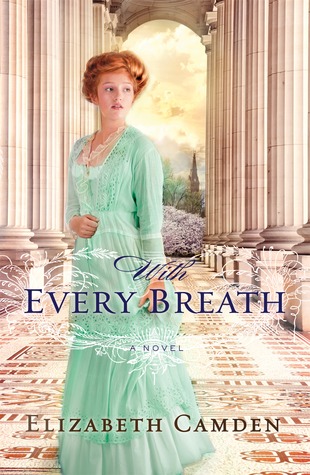 In the shadow of the nation's capital, Kate Livingston holds a respectable position as a government statistician when she encounters a rival from her past, the insufferable Trevor McDonough. A Harvard-trained physician, Trevor never showed the tiniest flicker of interest in Kate, and she's bewildered at the way he suddenly seeks her out. Surprising even herself, Kate agrees to Trevor's entirely unexpected and risky proposal to work side-by-side with him in his quest to rid the world of tuberculosis, a contagious and deadly disease.
As Kate begins to unlock the mysteries of Trevor's past, she realizes there is much more to him than she could have imagined. His hidden depths may fascinate her, but his most closely guarded secrets and a shadowy enemy lurking in the background carry a serious threat to their future.
When the truth of the past comes out, threatening to destroy everything they hold dear, how will Trevor and Kate ever overcome all that stands in their way?
There are many reasons why I like Elizabeth Camden's books: the unique storylines, the memorable heroes, the interesting careers of her characters, and the accuracy but originality of her historical settings. However, I think the main reason I'm always glad to pick up one of her books is the fact that she makes me forget that I'm a book reviewer or even a writer. When one spends so many reading hours picking apart fiction (intentionally or not) there's always this release when there's actually a novel that one can get lost in. And thankfully, With Every Breath was one of those books.
Actually, despite the fact that I'm a fan of Elizabeth Camden, I wasn't overly eager for With Every Breath- neither the cover nor (more importantly) the synopsis really captured my excitement or attention. Also (and this may seem ridiculous) I'm not a big fan of the name Trevor and that particular moniker belonging to the hero wasn't recommending the story any more to me. (I do have a track record, though, of disliking a name until I read about hero with it that makes me like the name better…*cough, cough* Percy) Still, the author's other books were good enough where I was perfectly willing to read this one anyway. And that being said, I think it took me a total of 65 seconds into this novel before I thought, "oooh, this is gonna be good!"
I loved Trevor's dry one-liners and responses to Kate's enthusiastic curiosity and bossiness. Kate, at times, was a bit harder to love, but I still found her an engaging heroine I could root for. Despite the fact that I myself am so different in personality from both Kate and Trevor (although, let's face it- in a bad mood I can act very much like the latter) I still somehow "got" them and that's quite a feat in fiction. Not everyone can write characters that people with opposite personality types can still relate to as human beings.
Overall, I greatly enjoyed this one. While Against the Tide still remains my favorite by the author, With Every Breath was just as good (if not better) than her last novel Into the Whirlwind.
Rating: 9 1/2 (yeah, I just can't quite make myself give it a full 10 stars...I'm stingy like that)
Objectionable content: a few kisses. Some medical terms/discussions that could make some readers squeamish.
I received this book for free from the publisher in exchange for my honest review.