The Promise of Breeze Hill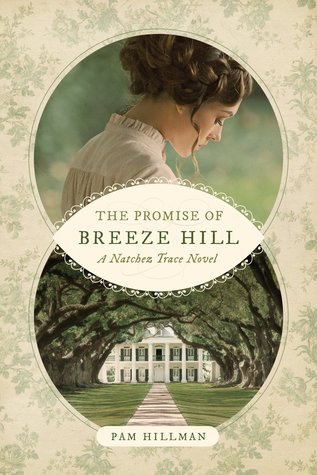 The Promise of Breeze Hill
Pam Hillman
Tyndale
Natchez, MS, 1791
Anxious for his brothers to join him on the rugged frontier along the Mississippi River, Connor O'Shea has no choice but to indenture himself as a carpenter in exchange for their passage from Ireland. But when he's sold to Isabella Bartholomew of Breeze Hill Plantation, Connor fears he'll repeat past mistakes and vows not to be tempted by the lovely lady.
The responsibilities of running Breeze Hill have fallen on Isabella's shoulders after her brother was found dead in the swamps along the Natchez Trace and a suspicious fire devastated their crops, almost destroyed their home, and left her father seriously injured. Even with Connor's help, Isabella fears she'll lose her family's plantation. Despite her growing feelings for the handsome Irish carpenter, she seriously considers accepting her wealthy and influential neighbor's proposal of marriage.
Soon, though, Connor realizes someone is out to eliminate the Bartholomew family. Can he set aside his own feelings to keep Isabella safe?
I will never not be drawn to this cover's particular shade of green. And the delicate flower, toile-like pattern? I know, I know. I tend to be swayed by a pretty cover too often. And this one, while not technically historically accurate, is just so pretty! The composition of it is also different and pleasing. While the synopsis didn't immediately capture me, I was interested because it takes place in the post-revolutionary war south. That's not a setting we see much of, so I wanted to check it out.
Unfortunately, this book didn't click with me, and is an example of the reason I generally avoid Romance (as in the modern genre, rather than well-written romantic relationships between two characters that can exist in any type of book). I couldn't get past the cliches and contrived scenarios for me to enjoy this one. Obviously this genre is popular for a reason, and some people really like it. I'm just not one of them: the basic plot is a bit too familiar, the character archetypes a bit too typical. The writing style itself wasn't bad by any means: it flowed well. Still, sadly, this one wasn't a good one for me.
I received this book from the publisher in exchange for my honest review.