When Tides Turn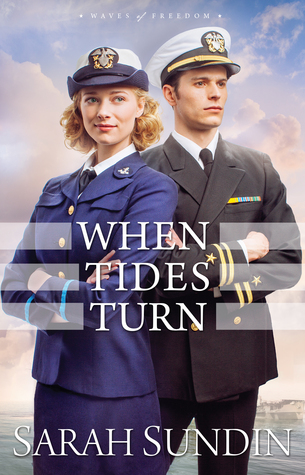 When Tides Turn
Sarah Sundin
Revell
The last thing naval officer Dan Avery wants to see on his radar is glamour girl Quintessa Beaumont—even if she has joined the WAVES.
When fun-loving glamour girl Quintessa Beaumont learns the Navy has established the WAVES program for women, she enlists, determined to throw off her frivolous ways and contribute to the war effort. No-nonsense and hoping to make admiral, Lt. Dan Avery has been using his skills to fight German U-boats. The last thing he wants to see on his radar is a girl like Tess. For her part, Tess works hard to prove her worth in the Anti-Submarine Warfare Unit in Boston—both to her commanding officers and to the man with whom she is smitten. When Dan is assigned to a new escort carrier at the peak of the Battle of the Atlantic, he's torn between his lifelong career goals and his desire to help Tess root out a possible spy on shore. The Germans put up quite a fight, but he wages a deeper battle within his heart. Could Tess be the one for him?
With precision and pizazz, fan favorite Sarah Sundin carries readers through the rough waters of love in a time when every action might have unforeseen world-changing consequences.
Y'all know I love a good Sarah Sundin book. I'm not generally the type for novels that are more on the romance-y side (I tend to like romantic mushy-ness as a subtle side dish rather than a main course) but her books are the exception. I loved the first book in this series, but didn't care for the second, so I was curious if
When Tides Turn
would regain my good opinion on the
Waves of Freedom
series.
Well, it did. Despite the fact that Dan and Tessa were almost complete opposites, I found them both completely relatable (although all things considered, I'm generally more like Dan) and likable. Again, the characters have very real flaws that create messes most authors wouldn't let their characters get into, and sins we many times think as "little" and let slide are addressed in a way that isn't annoying or preachy- what I appreciate most about these books is that the spiritual themes are usually pretty unique and not the cliched ones you tend to find in Christian fiction. Also, though the characters have misunderstandings and arguments like couples tend to do, they aren't dragged out over fifty million chapters that stretch into frustrating torture, as many books make the mistake of doing. My only complaint is that it did take me about four chapters to really get into it, but once I did I couldn't put it down.
Overall, this book was just pretty adorable.
(Objective content: like most of Sarah Sundin's books, there is some kissi-ness near the end; aside from that it's very clean)
I received this book for free from the publisher in exchange for my honest review.