Forsaken Dreams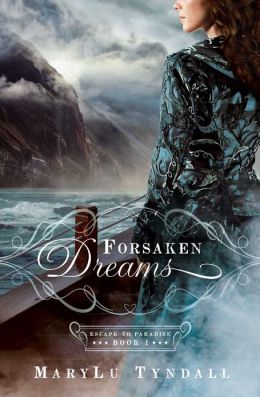 Embark on a seafaring adventure in a brand-new series from bestselling author MaryLu Tyndall. After witnessing the death and destruction caused by the Civil War, Colonel Blake Wallace is eager to leave his once precious Southern homeland for the pristine shores of Brazil and the prospect of a new utopian community. Widow Eliza Crawford seeks passage on Wallace's ship harboring a dirty secret—and a blossoming hope for a fresh start. But will dangers from the sea and from man keep them from the peace and love they long for?
Oh, where do I begin? I've read four other books by MaryLu Tyndall, but this one- this one was certainly the best out of all of those of hers I've read. I've always loved larger-than-normal casts of characters, where intersecting stories combine into one great plot. My own writing tends towards this direction, but I haven't read a lot of novels like this. I think that's why I liked this book so much.
Though I liked the main character, Eliza, I admit I'm even more interested by the characters of Angeline and Magnolia. I shake my head, because there are so many characters I want to learn more about! James, especially- half the time I felt he was the only voice of reason, and I kind of wanted to give him a hug and yell, "Thank you!" I wouldn't think that I'd like Magnolia, but she's not just a stereotypical spoiled, selfish Southern Belle; there are other sides to her too, and I dearly want to learn more about her! I'm not going to deny that it was strange reading a book with a character –a male character- named Hayden. My name's so unusual I just never see it used in books. But I promise that's not the only reason I'm intrigued with his character!
The book does some skipping around near the beginning, but I never found it confusing. I did admit that sometimes it was really annoying the way the passengers treated Eliza, because she was a Yankee. I certainly understand their sentiments and their hatred, especially so soon after the war was over, but that doesn't lessen the fact that I just wanted to scream, "PLEASE PEOPLE!!! She is not a murderer. It was WAR and her husband killed people. SHE had nothing to do with it!"
I also really liked the spiritual side of this book. It deals with spiritual warfare, a bit subtly, but I have a feeling we've only seen the beginning of it in this series. Mr. Graves is super-creepy, and I'm definitely interested in what chaos he brings in the next book.
I had never known that there was an immigration of sorts from the American south after the war. I thought it was interesting, and it certainly was a great idea to write a book series about it. I'm surprised I've never read anything about this before.
On the whole, I really enjoyed this book. My only regret is that I got it as a free e-book. (Yes, my hatred of e-books is only surpassed by my love of reading) so I cannot admire this novel on my shelf and flip through it again. However, I did enjoy this book enough where I'll probably buy a hard copy of the entire series when the other books come out. I really can't wait to read more of the Escape to Paradise series!
Objectionable content: there are a few kisses between various couples on board the ship. A man is wounded; characters have flashbacks of war.
I received this book for free in exchange for my honest review.